The Legend of Hog Island
Click or Tap a dot in the image below to get more info.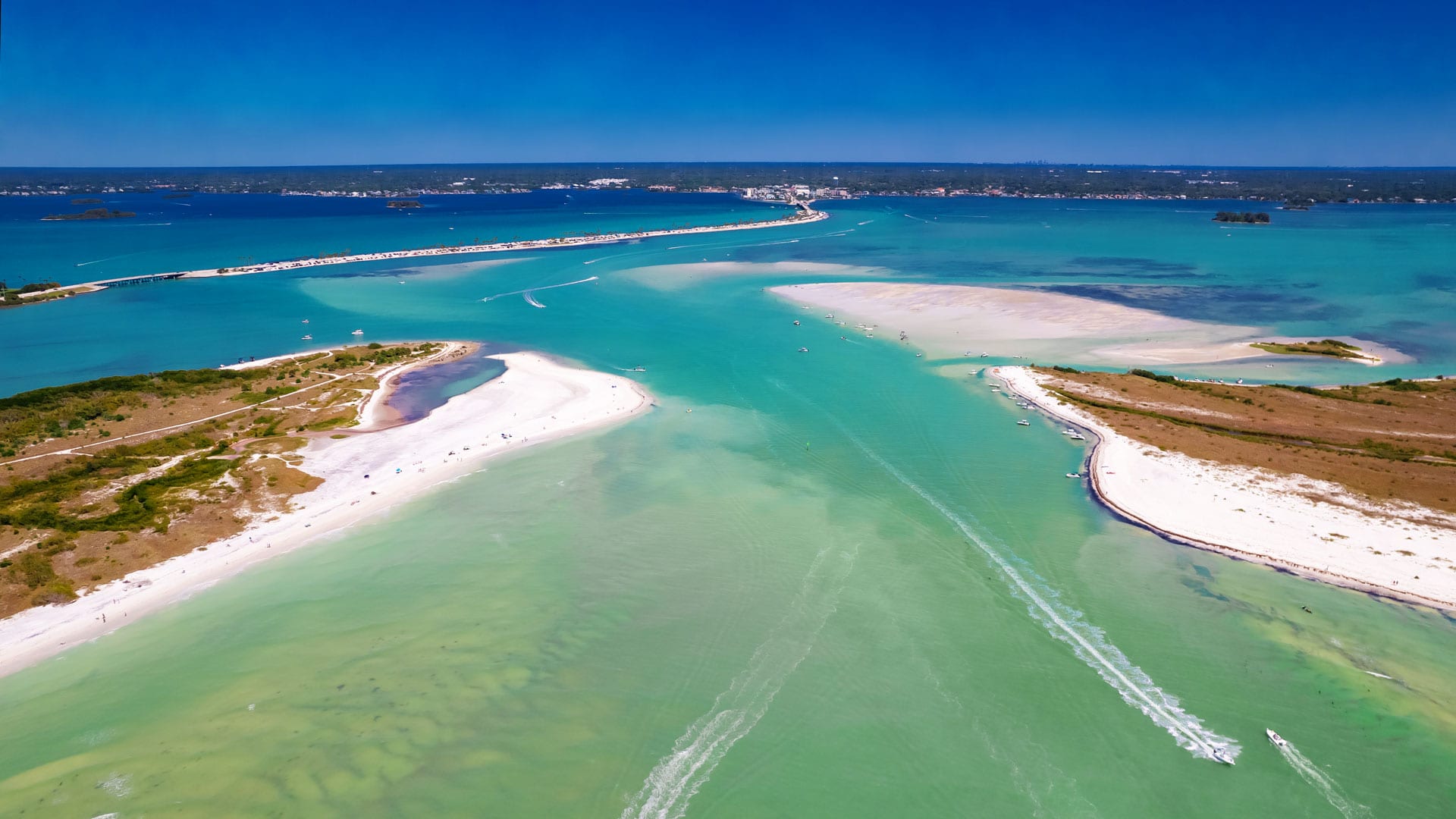 Dunedin Causeway
Located at 61 Causeway Blvd, the Dunedin Causeway is a 2.5-mile route that leads from Bayshore Boulevard (Alternate 19) directly to the entrance of Honeymoon Island State Park and is maintained through a cooperative agreement between Pinellas County and the City of Dunedin.
Hurricane Pass
The section of Hog Island a Hurricane ripped through in 1921 to create two separate Islands known today as Caladesi and Honeymoon Island.
Gulf Of Mexico
Just some of the great eating from the waters of the Golf is served at Hog Island Fish Camp: Hogfish • Red Snapper • Grouper • Wahoo • Spanish Mackerel • Mahi-Mahi • Tuna • King Mackerel • Sharks • Vermillion Snapper • Triggerfish • Amberjack (AKA Reef Donkey) • Crevalle Jack • Sheepshead • Red Drum • Gulf Flounder • Cobia • Tarpon
Caladesi Island – State Park
One of the few untouched islands along the Gulf Coast, Caladesi Island State Park is accessible only by boat, but is worth the extra effort. Whether it is a stroll along the island's pristine beaches or a kayak trip through the bayside mangrove forest, a trip to Caladesi Island is an unforgettable experience.
FloridaStateParks.org
Honeymoon Island – State Park
In the late 1930s, a businessman named Clinton Washburn purchased the island. While lunching with a friend who was the editor of Life magazine, he made the comment that the island would make a wonderful site for a honeymoon. The Life editor ran the story and Honeymoon Island was born.
Clearwater
Early settlers called it Clear Water Harbor, by which it was known until 1895 when Clearwater became one word. Harbor was dropped in 1906.
Spanish explorer Panfilo de Narvaez came to the Pinellas peninsula in 1528. The exact place he first stepped is disputed, but may have been Clear Water Harbor. Narvaez later perished in a storm after crossing Florida on foot with a party of soldiers.
In 1539, Hernando De Soto landed at Tampa Bay. He later died near the headwaters of the Mississippi River. Pedro Menendez arrived in 1567 searching for a route across Florida. He brought 10 missionaries to establish missions throughout the area. One of their Jesuit missions was established at Safety Harbor. Those who remained with this mission later perished in battles with the natives, who had been mistreated by previous exploration parties. White settlers did not return to this area until the 1800s
Florida became a territory in 1822. During the Seminole Indian Wars of 1835, the government built the original Fort Harrison as a recuperation Center for soldiers, and not as a defensive fort. It was located on the bluffs where Harbor Oaks is now. The fort was abandoned in 1841, and is commemorated by a plaque on Druid Road in downtown Clearwater.
Enjoy fresh seafood and local craft beer in a relaxed casual setting.
Dunedin
Two Scotsmen, J.O. Douglas and James Somerville, named the settlement Dunedin after applying for the first post office in northern Pinellas County after Richard L. Garrison was the first person given a land grant in 1852. With a dock built to accommodate larger sailing vessels, Dunedin became an important trading center and at one time it had the largest fleet of sailing vessels in the state.
The coastal town has since become popular among spring training fans for the Blue Jays team, the annual Highland Games and Festival, Mardi Gras, the popular Art Harvest and the growing number of local craft breweries, seafood festivals and farmers markets.  Also located in Dunedin is Honeymoon Island and Caladesi Island, frequently listed as one of the best beaches in the United States.
​Dunedin is often noted in the press for being one of the most walkable towns to visit.  The downtown runs along Main Street from the Gulf of Mexico to Milwaukee Avenue. While Main Street runs east and west, Broadway runs north and south and also features many businesses, particularly art galleries and home design stores. The intersection of these two streets form the heart of downtown. Other shops can be found on the Douglas Avenue, Highland Avenue, and Virginia Lane.
Many of the businesses on Main Street include antique stores, clothing stores, and gift shops. Along with the restaurants, you will also find several taverns and clubs to give the area a bit of nightlife.
​Our restaurant, Hog Island, is located just north of main street, and on the west side of Alt 19.
OUR STORY
Our family settled in Florida during the Great Depression, right here on Old Clearwater Bay, and learned what bounty the local waters had to offer. At the time, before high-rise hotels and high-rent condos, a person could wade from the mainland to the barrier islands and rarely encounter water more than waist deep, netting mullet and casting for redfish the whole way.
Hog Island Fish Camp offers each guest a glimpse back to times when families could bond over a fresh caught dinner, conversation of the days adventures, and the anticipation of the best part of the day, the setting sun. It is our pleasure to be a part of the preservation of days gone by and make each visit enjoyable, memorable and a reason to return. When the clock strikes "sunset" and we've done our job right, you'll strole down the street to the marina, look out over Old Clearwater Bay to where the sun sets over Hog Island and realise… nothing has changed.
As you look over Old Clearwater Bay, it will make you think of a time not so long ago, when folks from the Southern states gravitated to the area, not for theme parks… but fish camps. Places on the rivers, lakes, and coasts, where you could find a rental rod, serenity, and someone to fry up their catch for dinner. These fish camps were places where dads taught their sons and daughters to cast, where husbands and wives could escape for a weekend, and where children could live out the stories they would inevitably tell their own kids someday.
Olde Bay Café
Dunedin's best Fish Taco's, coldest beers, and breathtaking views from the outdoor deck near Edgewater Park.
51 Main St, Dunedin, FL 34698
(727) 733-2542
What People Are Saying
Hog Island Fish Camp
Fresh local seafood, 21 rotating craft beer taps, and Dunedin's best Happy Hour.
900 Broadway Av, Dunedin, FL 34698
(727) 736-1179
What People Are Saying
Water Oak Grill
Safety Harbors seafood and steak bar. Enjoy craft beer, cocktails, wine in our indoor and outdoor seating area.
201 Main Street Suite 100
Safety Harbor, Fl 34695
(727) 286-6919
What People Are Saying